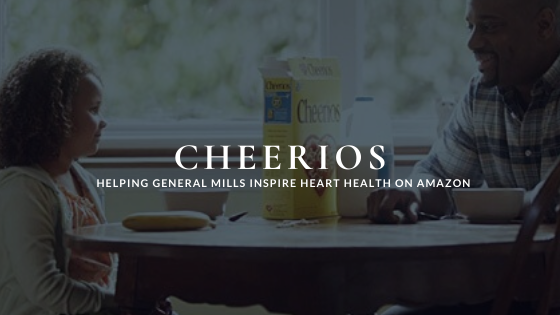 Who?
Millions of Americans include Cheerios in their daily rituals, whether it is breakfast or a snack bag for a
toddler. Cheerios' success relies, in part, on an advertising message that focuses on one prominent
American value: family.

What?
For a limited time, Cheerios decided to add heart shapes to Honey Nut Cheerios and classic Cheerios to
remind Americans that living a happy, heart-healthy lifestyle can be fun, easy and delicious.
Seasonal items that are only available to purchase for a few weeks typically are not adopted on
eCommerce sites due to the short life cycle.
Cheerios hearts was an important campaign to support heart health and the brand teams wanted to
ensure their product campaign gained exposure and sales on the top eCommerce site.

How?
Day One Digital implemented a custom new item setup strategy by leveraging partner relationships and
a unique understanding of Amazon's buying system.

Result
Amazon's purchasing system was triggered to buy the new Cheerios product direct from General Mills
with limited sales history. General Mills launched Cheerios Hearts on time and remained in-stock for the
entire month of February which allowed pay per click and display advertising to enhance hearth
awareness across the Amazon platform.
https://dayonedigital.com/wp-content/uploads/2020/05/Cheerios-1-1.png
315
560
Gun
https://dayonedigital.com/wp-content/uploads/2020/06/Day-One-Digital-Vector-Template-Blue-300x60.png
Gun
2020-05-31 19:56:24
2020-05-31 19:58:05
Day One Digital Case Study: Cheerios New Item Setup